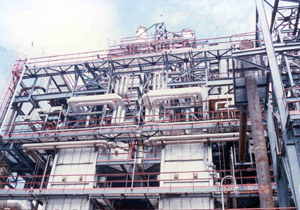 Plant:
Interconnecting pipework on a Platformer unit at an Australasian refinery, operating in the creep range with a service life of 220,000 h
Objective:
Formulation of a risk-based inspection and maintenance programme
Approach:
Classical pipework stress analysis, validated by comparing predicted and observed hot-cold movements
Probabilistic creep life prediction
Consequences of failure classified according to sub-component type and fabrication (seam-welded or seamless), on the basis of a leak-before-break analysis. Relative costs assigned by the client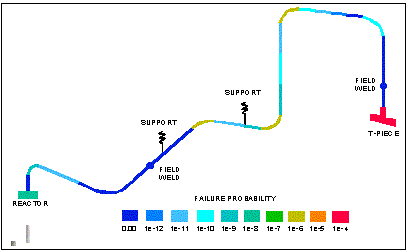 Benefits:
Critical locations identified on each line
Failure risk calculated for each location at next four scheduled outages
Failure risk for each line computed from those for individual locations
Inspection and maintenance plan formulated and implemented
Published:
Brear, J.M. and Williamson, J.,
"Integrity and life assessment of catalytic reformer units"
Chapter 2 of EFC Publication 42 'Corrosion in Refineries', eds Harston, J.D., Ropital, F.
Inst Materials, Minerals and Mining, London, July 2007, pp 18-46
Barrien, P., Jarvis P., Townsend R.D.
"Risk-Based Inspection and Maintenance Optimisation of High Temperature Plant"
Operating Pressure Equipment Conference. Brisbane, Australia, 7-11 April 1997.