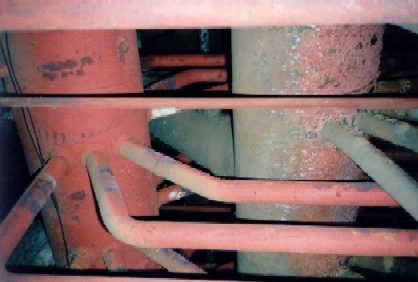 Item:
High temperature header, fabricated from Carbon-0.3%Mo, in a European power plant
Situation:
Following tube failures, an explosive-plug sealing repair route was proposed.  This necessitated machining some tube bores in the header oversize.
Questions:
Does the header, with a single increased tube bore, comply with the design code?
Does the header, with multiple and possibly adjacent increased tube bores, comply with the design code?
Outcome:
Inverse design calculations show that the ligaments in the longitudinal direction (ie those subject to the hoop stress) are critical. Those that lie diagonally and circumferentially are second and third respectively.
Calculations show that two adjacent longitudinal bores can be safely enlarged and plugged, but not three.
Benefits:
Client provided with decision making information with regard to plugging
Headers can be safely returned to service following plugging